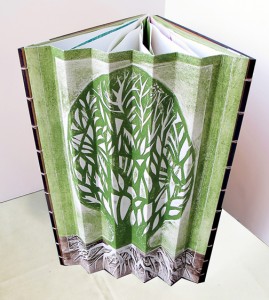 Spring is a time of nature's renewal, bringing with it new life and beauty to share. Using the Callery pear Survivor Tree as my inspiration, the book celebrates the return of the tree to the 9-11 Memorial plaza, after it was nourished back to health and in 2010 replanted in between the two memorial pools.
The National September 9-11 Memorial Plaza opened to the public on September 12, 2011, a day after the families of the 9-11 victims had their ceremony, marking ten years since visitors had been allowed at the site. Blue ribbons were attached to the tree branches with hand written notes by the families and subsequently visitors and families continue to leave tributes at its base. Today the tree stands as a symbol of strength, resilience and the indestructible spirit of hope in adversity. It has become a focal point for visitors to reflect and pay their respect to this living symbol that can be shared by everyone.
The pages are printed intaglio and relief using collagraph and laser cut woodblock plates on an etching press. A limited edition accordion spine with sewn folios and coptic bound wooden covers binding. Diverse papers were used for the body of the work. The book was designed, printed and bound by the artist, Maria G Pisano, in an edition of 10. Book closed 13"H x 10.25"W x 1.5"TH close (7.5"TH open spine) – Memory Press © 2016.