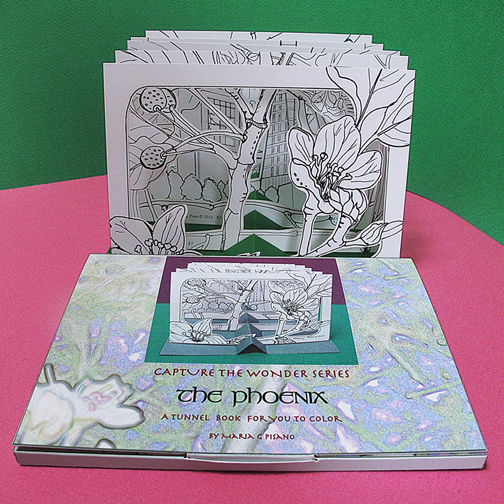 Spring is a time of nature's renewal, bringing with it new life and beauty to share. Using the Callery pear Survivor Tree as my inspiration, this tunnel book celebrates the return of the tree to the 9-11 Memorial plaza. Today it stands as a symbol of strength, resilience and the indestructible spirit of hope.
Artwork, concept and design by Maria G. Pisano. Book 1 in Memory Press "Capture the Wonder" series. A tunnel book kit, with 5 panels and a base inside a slipcase, with directions in back and pre-cut to reveal the depth of the design. These pages are intended to be colored and assembled so that each one becomes a unique artist book. Digitally printed, book measures 5" x 7" – open edition – ISBN: 978-0-9761941-4-9
Memory Press © 2016.